This light weight heavy duty pulling harness will last for years. Probably the best nylon pulling harness for police,service,rescue,sport or schutzhund dog.This is a great light weight harness with two extra D-Rings sewn into the sides. It can be used for everything from tracking to carting.It can be adjusted in two places to get a perfect fit for almost any size service dog.The harness has 3 heavy duty D ring that will last for a lifetime.The 2 inch snap allows the harness to be taken on and off very quickly by the handler using just one hand.Our nylon pulling harness is ideal for carting or pulling trial in wet conditions.

The summary of the futures for this tracking harness:

Made of quality super strong 2 inch nylon
3 Quality welded heavy duty stitched D ring
2 inch side light weight release buckle
Carry heavy duty stitched handle

Synthetic pulling dog harness for watching and guarding work used also as dog tracking harness.ADJUSTABLE.


Check how this product looks on the dogs (click on the pictures to see bigger image)

| | | | |
| --- | --- | --- | --- |
| | | | |
| | | | |

Don't lose your pet - get ID tube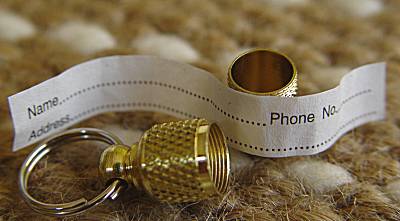 Guy,
I received my harness just a few minutes ago. WOW superb quality!! Now if I can just get my dog to feel that way about it. He thinks I'm punishing him by putting it on him. I hope he will get accustom it. If I order a collar, could I get it by the end of April? Do you have any suggestions? Thank You


From :Donald, USA
Dear Guy,
I just got it today. I must say your products are very well made, I have Horses so I know a little about leather the Harness you made for me is top quality leather. I fitted it to him tonight I'll use it tomorrow. I have a stupid question. Can you explain how the lead is meant to be used. Also I ordered the second all weather harness because the place that I got the Dane from really liked it. So hopefully you'll be getting more orders from the Service dog org. Also just a idea I think you should look up other Service dog training places and show them that all weather Harness, I have heard from other people how hard it was to find a Harness, The all weather one has the handle on top so it's perfect. I think you might get a lot of orders from that. I'll send a picture of Sergio with his new Harness soon. He is a Champion and was in the top 20 for two years.


From : Tracy, USA
Guy,
I received my Nylon Harness and just wanted to show my appreciation. The Harness is amazing the dog loves it i love it and he is now much more comfortable in training and walking and the control is amazing. It like clothing for him now he wants it on in the morning and doesn't want you to take it off. I have recommended you to everyone i can think off that would need this equipment. Again thanks for the great customer service and a truly great Product.


From :Dave, Ireland