This well-fitting, comfortable muzzle is made based on special strong metallic construction to maintain the shape of the muzzle and to assure long life for the muzzle.Due to great design the muzzle provides the dog with best ventilation available among muzzles.This muzzle is very comfortable for your dog and is also very practical for training,traveling,patrolling,guarding and visiting the vet.This muzzle is completely safe and non-toxic.Among the advantages: Inhibits biting, chewing. Extremely difficult for the dog to dislodge with it's paws. It is never advised to leave your dog unattended while muzzled.
The muzzle is padded on upper nose area with soft felt for maximum comfort of your dog and to prevent rubbing.

Please size your dog for good fit (details below)
10 Amazing unique qualities of this "Must Have Muzzle"
Experiencing problems to leave muzzle for long time during hot summer days? No longer with super ventilation wire muzzle
Having trouble during vet or groomer visit? Get this muzzle and solve the problem
Need reliable products recommended by Vets, Dog Trainers and Behaviorist? This muzzle is the professionals pick
Looking for a solution to discourage your dog from biting, chewing and eating unwanted objects? No more dangerous rocks or sticks with this muzzle
Are you looking for a long term solution? With this muzzle on, your dog will breath freely, pant and drink water.
Does your dog need a muzzle that feels like he is not actually wearing it? This wire - basket dog muzzle can be worn while dog is walking, playing or running.
Tired of weak , one day plastic or nylon muzzles? This dog muzzle is made of chrome wire and leather - strength and durability
Fed up with non adjustable straps or straps stretching problems? The straps of this muzzle are adjustable and won't stretch.
Would you like comfort for your dog? The snout's upper part inside the muzzle is made of leather, but is also lined and padded with felt for the dog's comfort.
How does my dog drink water with a basket dog muzzle on??
For most basket dog muzzles, the dog should be able to put his snout in a water bowl and lap the water up from inside the basket muzzle. Drinking water is something that your dog will have to figure out on his own.
How to measure your Dog-Click here
Choose muzzle from our sizing chart to fit your dog perfectly - Click here
1.Length - Distance from the tip of the nose to eye line in inches
2.Circumference - Circumference around snout one inch below eye line in inches
3.Eye Line - Distance from eye line to right behind the ears in inches
4.Neck Circumference- Circumference around neck behind ears in inches
5.Width- Snout width in the widest part
6.Height - Snout height , should be measured with mouth a little open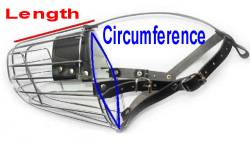 How to measure your Dog-Click here
Choose muzzle from our sizing chart to fit your dog perfectly - Click here
Mixed breeds owners attention! Please supply accurate sizing info - most of the times (99%) we will be able to send good fit.
*Please supply as much accurate sizing info as possible to maximize chances of good fit. Please note - there are extra charges involved in exchange - see return/exchange policy for detail

Please note : all muzzles are made with strap which goes between eyes (not shown on all muzzles pictures)

This well-fitting, comfortable muzzle is made based on special strong metallic construction to maintain the shape of the muzzle and to assure long life for the muzzle.Due to great design the muzzle provides the dog with best ventilation available among muzzles.This muzzle is very comfortable for your dog and is also very practical for training,traveling,patrolling,guarding and visiting the vet.This muzzle is completely safe and non-toxic.Among the advantages: Inhibits biting, chewing. Extremely difficult for the dog to dislodge with it's paws. It is never advised to leave your dog unattended while muzzled.
The muzzle is padded on upper nose area with soft felt for maximum comfort of your dog and to prevent rubbing.


I just wanted to let you know that Nigel had his vet visit today...and we used the custom muzzle with great ease! The vet was very impressed with the style and quality. Nigel looked very handsome wearing his muzzle. Thank you for your great customer service and wonderful muzzle!!!



From : Claudia, USA, New York