Girth is the measurement around widest part of rib cage (behind front legs)

Need a different size? Please contact us




This light weight heavy duty pulling harness will last for years. Probably the best nylon pulling harness for police,service,rescue,sport or schutzhund dog.This is a great light weight harness with two extra D-Rings sewn into the sides. It can be used for everything from tracking to carting.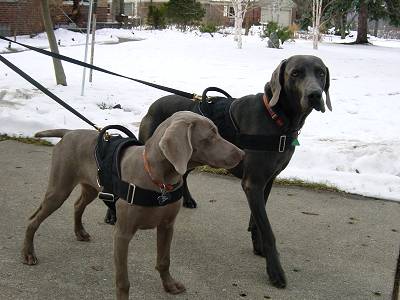 On the picture - What a nice couple - Maggie and Harley ( owner Debbie , MI )

It can be adjusted in two places to get a perfect fit for almost any size service dog.Dogue De Bordeaux,German Shepherd,Doberman Pincher,Rottweiler and other breeds.The harness has 3 heavy duty D ring that will last for a lifetime.The 2 inch snap allows the harness to be taken on and off very quickly by the handler using just one hand.Our nylon pulling harness is ideal for carting or pulling trial in wet conditions.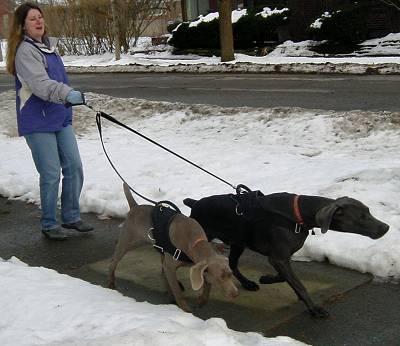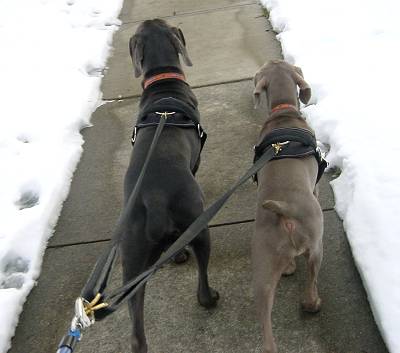 On the picture - What a nice couple - Maggie and Harley ( owner Debbie , MI )

The summary of the futures for this tracking harness:

Made of quality super strong 2 inch nylon
3 Quality welded heavy duty stitched D ring
2 inch side light weight release buckle
Carry heavy duty stitched handle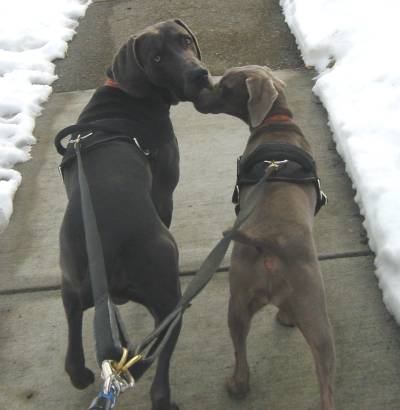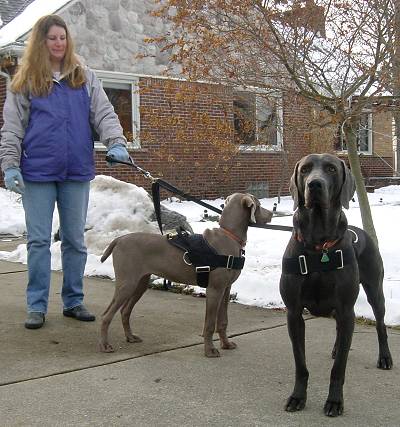 On the picture - What a nice couple - Maggie and Harley ( owner Debbie , MI )

Synthetic pulling dog harness for watching and guarding work used also as dog tracking harness.ADJUSTABLE.


Check how this product looks on the dogs (click on the pictures to see bigger image)

| | | | |
| --- | --- | --- | --- |
| | | | |
| | | | |

Don't lose your pet - get ID tube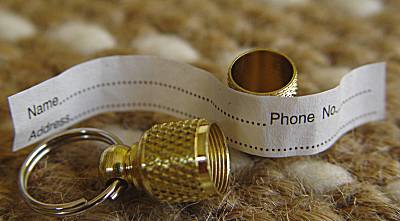 Dear Store ,
I would like to say thank you for the prompt and effortless completion of my recent order ( March 2009 ) ... I ordered a harness and a lead .. they both arrived in no time at all and I am more than happy to place orders in the future .. Once again thank you , I was a refreshing change for an internet purchase to be , On Time and exactly what I required.. Please feel free to show my comments to other potential buyers .. I highly recommend this on-line store .
Regards.


From :James, UK
Just would like to say what excellent quality your harness is....I will certainly be shopping at your website again and would definitely recommend your website to others. Thanks again!!!


From :Jackie, USA
Good Morning, Guy!
The harnesses arrived yesterday, thanks. I just want to tell you that these are the best we've ever used. They are very well made, heavy duty, work perfectly, and our dogs look extra handsome wearing them. We are so pleased. Thank you for a terrific product. I look forward to doing business with you again in the future.


From :Scott, USA


Dear Guy,
Thank you for responding so promptly. I did receive the harness today and only had to make one small adjustments before effortlessly sliding it on my dog, who seemed quite fine with his new harness. He has just been approved to be a therapy dog and will wear this particular harness to "work". Thank you again.


From :Susan, USA
Guy,
Thank you for your beautiful message. Things should be a bit more lucrative after the new year , Deizel needs a new leather Harness and collar. i will be sending you his old ones so you can see that they both need to be a bit bigger. I LOVE his leather padded harness, but he cannot wear because the girth needs to be bigger. Look forward to doing business after the new year. In the mean time, I wish you and your family a WARM, SAFE and HAPPY HOLIDAY!!! Best Regards,


From :Lizbeth, USA
Hello Guy,
I am writing to commend you on the quality of the equipment you have again provided me! I have a working Malinois and Dogue de Bordeaux, both outfitted with your agitation harnesses. The padding has saved the fur and skin on both my dogs, and can work in them for hours! The Agitation muzzle is superbly ventilated and so suited for my climate. Also I love your multi-purpose leads, very easy on the hands. No one believes their strength, but having a 120 pound dog hit the end hard time after time has shown the quality! I cannot find anything made in Australia that can rival your quality and price, and I recommend you to everyone I meet! Thanks, will definitely be back for more!


From :Julie, Australia