Long- or Short-haired Dogs Grooming
All dog breeds, both long- and short-haired, need grooming. It is one of the most important parts of a daily dog care. In such a way the dog owner ensures that his dog is healthy and feels well.
Grooming your dog on a daily basis helps to eliminate many skin problems, to check if there are no cuts, swelling or even prevent infestation.
There are a lot of tools that may help you to take care of your dog's coat properly: brushes, shading blades, combs, rakes as well as shampoos, conditioners, etc.
Here we want to present you two tools that can be used everyday and
will help you to care about your dog's health and appearance easily
. They look the same but their use differs depending on a dog breed.
Click on the picture to see bigger image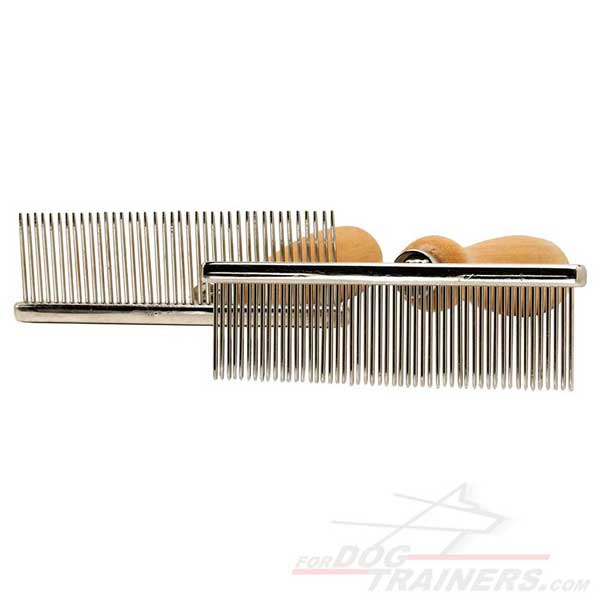 Chrome Plated Dog Combs for Grooming
Proud dog owners of long-haired dogs know that they have to do a lot of job to make the coat of their four-legged companions look healthy and shiny. So, our craftsmen have designed
Metal Styler Comb with a Handle
specially for long-haired breeds. It has chrome plated teeth that are located at a distance of 2 mm. It makes the
comb glide along the dog's hair more easily and remove tangles, mats, loose hair and dirt
.
Such comb will be also
good for dogs with coarse, wiry, wavy and curly coat
.
For happy owners of short-haired dogs there was designed a similar Metal Comb model. The difference is the distance between teeth.
Short-haired dogs need the dead hair to be dragged. This effect is reached when the distance between teeth of a comb is very very small. The distance between the teeth of our
Comb with Handle for short-haired dogs
is 0.8 mm. It will
carefully drag all the dead hair of your dog, also will remove dirt, tangles and make the coat look shiny and healthy
.
Click on the picture to see bigger image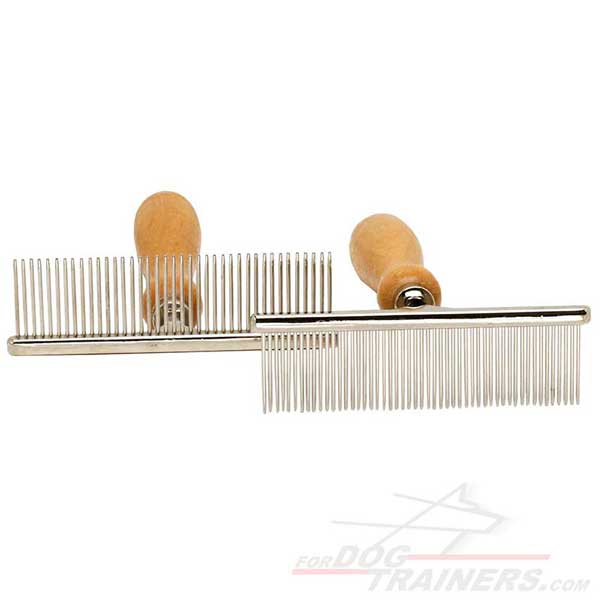 Dog Combs for Grooming with Handles
Brief Comparison Table
Product Overview
Comb for Short-haired Dogs

Comb for Long-haired Dogs

teeth material

handle

length of the teeth

width of the shaft

distance between the teeth

price



chrome plated
wooden
5 7/10 inch (14.5 cm)
4 3/10 inch (2 mm)
2/5 lines (0.8 mm)
$9.90



chrome plated
wooden
5 7/10 inch (14.5 cm)
4 3/10 inch (2 mm)
4/25 inch (2 mm)
$9.90

If you want to enhance your dog's appearance you shouldn't forget not only about cleaning his paws after a walk, but also about combing or brushing his/her hair. The
pins of both combs presented here are carefully polished, which prevents from scratching or harming the skin of your pet
. Due to ergonomic handle the whole procedure of grooming your dog will become more pleasant for you.
You are the owner of the best dog in the world, so you should provide your friend with the best care in the world.