Fordogtrainers.com Is Happy To Announce Excellent Opportunity For All Dog Owners and their Lovely Pets
2 the most expected events of this Summer have started. Everyone is welcome to participate in dog photo and dog video contests. The most interesting, extraordinary, touching videos and photos will get tremendous prizes.
Isn't it cool that for sharing a dog photo or a dog video a person can benefit a lot?- That was a rhetorical question. Of course it is cool. First of all, a pet will become world-known and there are prizes for the best photos and videos.
If you are already interested than you can start participate in dog photo contest here. Chances to win are higher if you participate in dog video contest as well. If you want more information read further.

This is the second time Fordogtrainers.com launches contests of the kind. First time was in December of 2012 and it was quite a success. Pictures of the winners and slideshow of the participants can be found below.

There are no boundaries for your imagination. Think creative. If you lack experience or knowledge in this matter you can use Fordogtrainers.com expert tips. You can find these dog photo shooting tips very useful and not less valuable dog video making tips.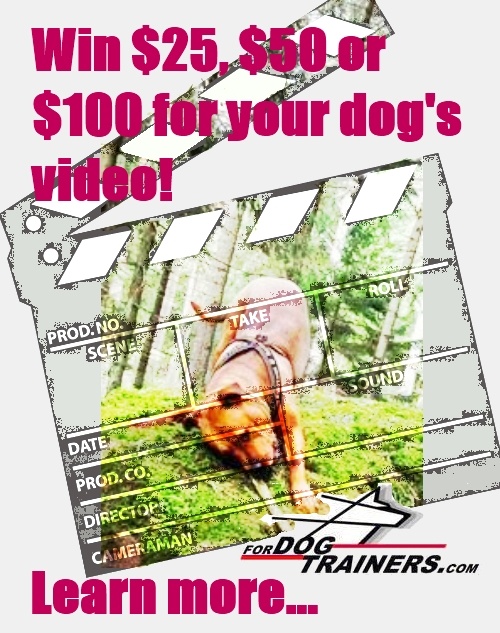 Main steps to be done to win the contests. (One person can participate in both contests):

Make great fascinating dog photo/video
A participant should be at least 18 years old and have legal right to submit photo/video.
Ask everyone to vote for your pet (photo that gains the majority of 'likes' will be the winner)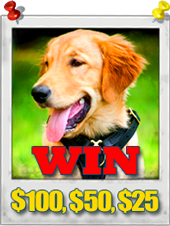 Note! There are no limits on the number of photos allowed per person. The more pictures submitted the more chances to win one of the prizes. Make everyone involved (your friends, neighbours, coworkers, etc.)

Remember that serious but creative approach will definitely bring a success. 'Quality', 'Attention' and 'Rarity' are the words that will help to win. Believe in yourself and charm and uniqueness of your dog!



Rules and conditions for both contests are simple and can be found on the site. Learn more about rules for dog photo and dog video contests.
Check cool slideshow dog owners sent us last time / Our Video
Read full version of this article
here

.
Our Last Year Winners
November, 15th - December, 30th 1st International ForDogTrainers.com Photography Contest!
Meet the Winners of the last contest!!!
Check the most popular images according to public voting!
Click on the pictures to see bigger image
ForDogTrainers.com deeply appreciates Photography Contest participants for sending their amazing creative photos and big thanks to all those who voted and who supported the contestants!