The Production Of Best-selling Nylon Dog Training Harness Will Be Increased.
Monitoring today market demands Fordogtrainers.com couldn't but notice extreme demand on multitasking nylon dog harnesses that has been recently designed.

The company's CEO was asked to explain why this very product became so popular in such a short period of time. He said that there are solid reasons. First of all, there were specific purposes to complete. Company's designers had to design budget dog harness that could be used for various activities. Before starting producing this harness it was decided that the material would be nylon because it is budget, easy-to-care, perfect for all four seasons and light-weight.
Click on the pictures to see bigger image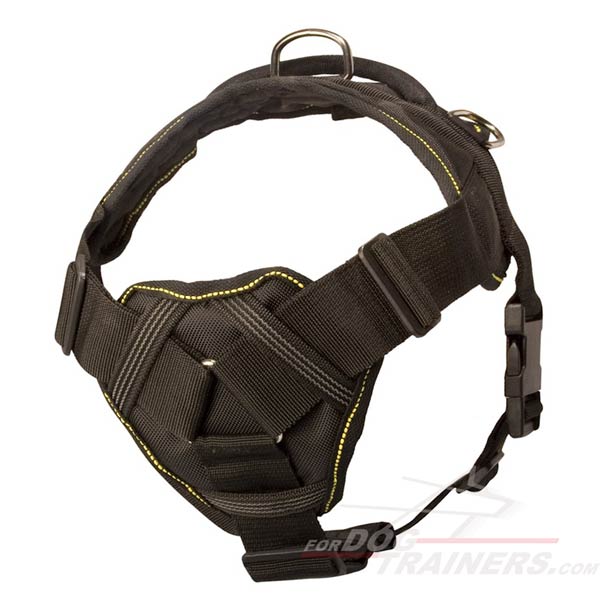 Professional training with nylon dog harness.

If you are interested in purchasing this great item follow this link.
That is why this dog harness:

low-priced
can be used for training, pulling, tracking and usual daily walking
can be worn on daily basis despite what weather or temperature is outside
allows a dog to wear it for many hours (note! it is necessary to understand that a dog shouldn't be constantly harnessed)
Main characteristics of this dog harnesses you should know:
strong safe nylon
cushion-like chest plate (chest-protection function)
4 ways easy adjustable
quick release buckle
gentle back plate
solid side rings for pulling activity
leash attachment D-ring
handle for total control
nickel plated rings
only rust-resistant hardware
super light weight
trendy design
Click on the pictures to see bigger image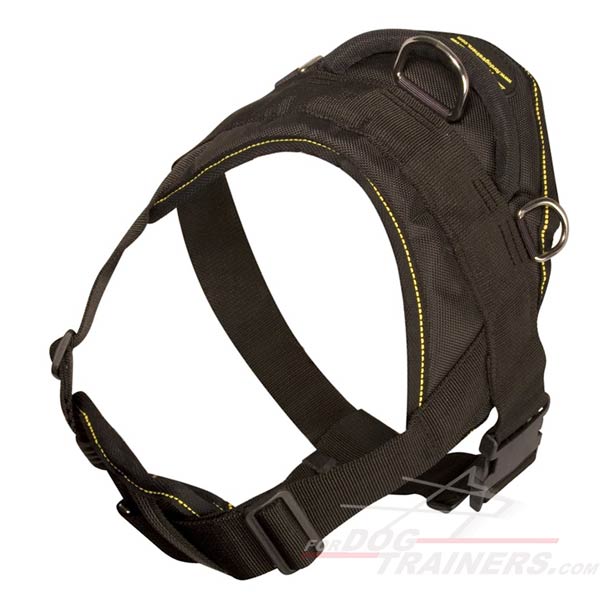 All weather dog training, walking and pulling harness
Ordering this harness is smart move because it is designed for professional trainers as well as for all caring dog owners who prefer active life style. It is necessary to remember that no picture in the world will convey the quality and reliability of this nylon dog harness. Once the dog is harnessed all the advantages will be apparent. Every little detail is targeted at dog and his owner comfort. Company guarantees safe and comfy dog training and as well as dog walking. Dog owners can be 100% sure they buy exclusive item that got approval of hundreds of dog trainers and owners.
Combination low price + multifunctionality + top notch quality + huge demand = Must have dog training and walking tool of all times!
Check how our products look on the dogs / Our Video
Read full version of this article
here

.