Dog E-walk Premium Trainer And Anti-pulling Device Have Been Added To Fordgogtrainer's Range Of Products
100% effective ultrasonic devices were designed in Germany to solve dog's disobedience and pulling on a leash problems. Now they are available on Fordogtrainers.com. Great effect, no harm for a pet..

Many dog owners hate dog walking because this activity is exhausting, especially for those who have large and active breeds. There is always a solution to a certain problem. Fordogtrainers.com offers super effective ultrasonic anti-pulling device that is a real helper for dog owners who are sick and tired of being constantly pulled on a leash when walking their dogs. It is time for your pet to know that you walk him/her not vice versa. This gadget was developed by German highly qualified scientists. Your pet's health won't be affected because this ultrasonic device is harmless. The basic principle is irritative ultra sound that discourages a pet from pulling on a leash.

Main advantage of this dog-e-walk is that:
You will finally be able to enjoy walking with your pet without causing harm to anyone!
Click on the pictures to see bigger image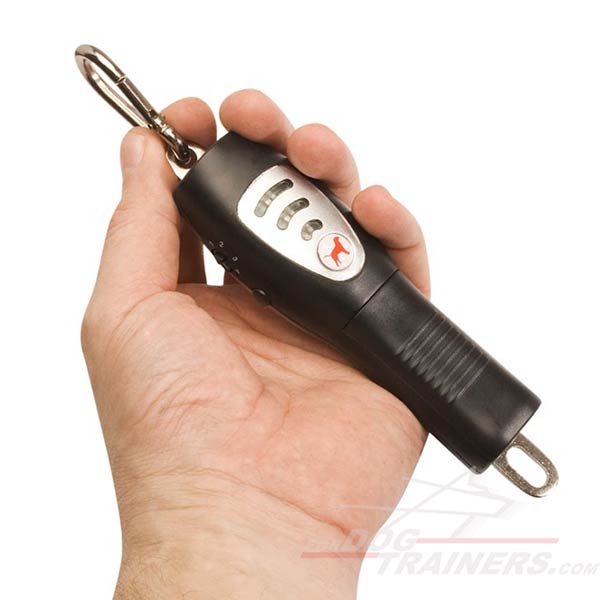 Highly demanded ultrasonic anti-pulling device.

If you are interested in purchasing this great item follow this link.
Main features of this gadget are following:

effective ultrasonic whistle system
immediate reaction to the signal
harmless for a dog and a human
inaudible to a human ear
quickly & easily fastened to a leash and a collar or a walking harness
easy adjustable tone level
perfect for daily training
enjoyable pulling-free walking
provides total control over a pet
easy in use
absolutely safe
unnoticeable to others
The device is simple in use, however there are some recommendations you should know.
How to use the anti-pulling device:
1. The device is to be attached between a collar and a leash before turning it on.
2. When used for the first time, the gadget should be off, for your pet to to accustom to extra weight.
3. It is better to start using the 1st level, it can be enough for your dog. The tone of the sound will be adjusted automatically if the pulling is harder.
4. Always praise your pet for the correct response to the sound. It is necessary to form stable reaction. Eventually your pet will know that pulling is bad.
5. Try to be consistent and patient. Some dogs need less time to stop pulling, others require more.
Also, Fordogtrainers.com offers one more great gadget that combines the features of anti-pulling device described above and the features of dog trainer. Meet ultrasonic easy-trainer and anti-pulling device created by German experts as well! The price is slightly higher but the device is more functional. The demand on this very product is incredible and this fact speaks for itself. We live in XXI century and many people work to make our daily life easier. You are offered to be carefree when walking and training your pet. No more disobedience, no more pulling on a leash! Your daily dog walking will become longer and much happier if you use this Dog-e-walk premium trainer.
Click on the pictures to see bigger image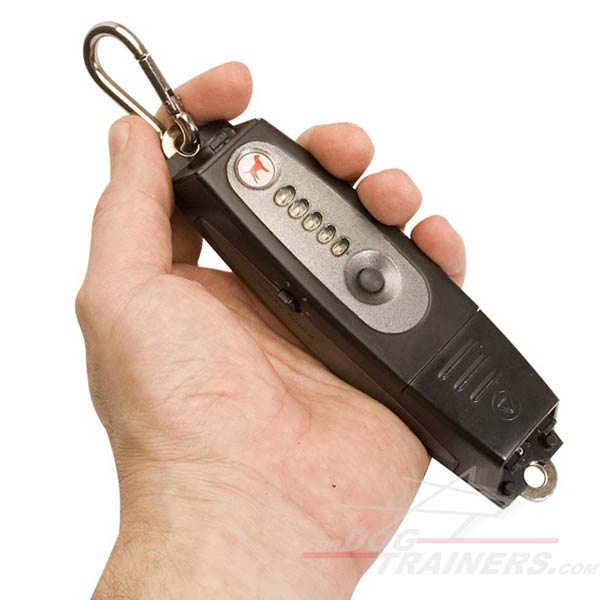 Premium ultrasonic dog trainer.

Learn more about its features:

4 levels of ultra-sound intensity
handy "plus" and "minus" options to control the signal
simple in use
safe for you and your dog
unnoticeable to others
easily attached to leashes, collars and harnesses
remote trainer function
offers quality control over your dog
30 feet operating distance
Click on the pictures to see bigger image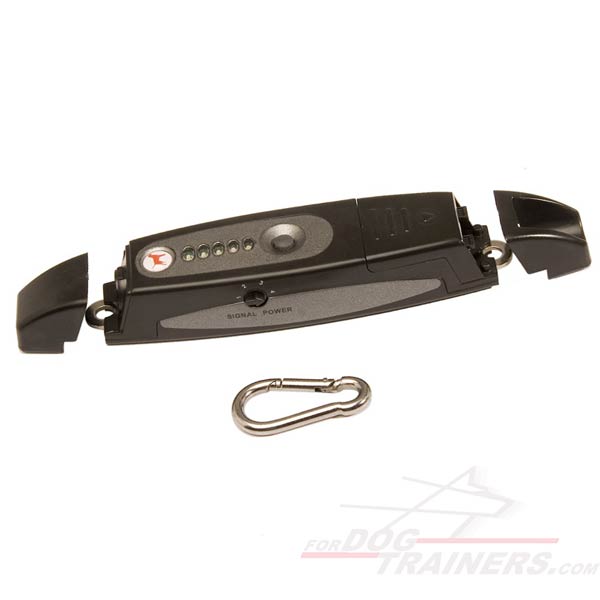 Popular dog training device, excellent for walking as well
If you don't know how to train your dog with the help of this devices you may find these tips helpful:
When exercising off-leash training you should be within your pet's vision.
Command "Sit!"
If your dog doesn't respond, turn on the device and press + button on the volume control.
If your pet reacts to the signal you can turn it off. Give your dog a treat for the good behavior.
No need to repeat a command many times. Say it once and wait for the dog's reaction.
Be consistent with your training commands.
Good luck in this difficult training process full of interesting and happy moments. Remember that you patience, persistence and faith in you pet will be paid off.
As you see you can train your pet off leash using this device as a remote control. The result will be more than excellent! You just need to use our tips and follow recommendations and the success will definitely come.
Facts about both described devices:
The DOG-e-Walk and Premium Dog Trainer are driven by a 9-volt block battery
Please, change the battery if the control LED on the device flashes
No cell phone can affect the effectiveness of this no-pulling device
An operating distance of the signal is around 30 feet, make sure you are within this range
A dog can't get used to the signal because the frequency of the signal always changes, so effectiveness is guaranteed
Warning!
It is highly undesirable to train your puppy with these devices, wait until he is a fully developed dog.
Check how the product works / Our Video
Read full version of this article
here

.