646-257-4045 (Mon-Fri 9:00AM - 3:00PM EST)
Nylon Dog Harnesses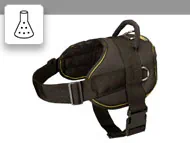 more info...
Displaying 1 to 9 (of 18 Products)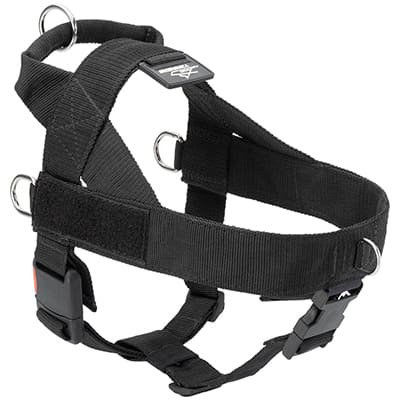 Water Resistant Nylon Canine Harness with Patches Description of the dog harness no pull Click on the pictures to see bigger image Durable...
$38.99
... more info

Innovative Tracking and Pulling Nylon Dog Harness Click on the pictures to see bigger image Extra Quality Cane Corso Equipment for Pulling,...
$54.99
... more info
Reflective Nylon Service Dog Harness with Handle New  Nylon  dog harness/ All weather training dog harness/ ID nylon dog harness/ Nylon...
$52.99
... more info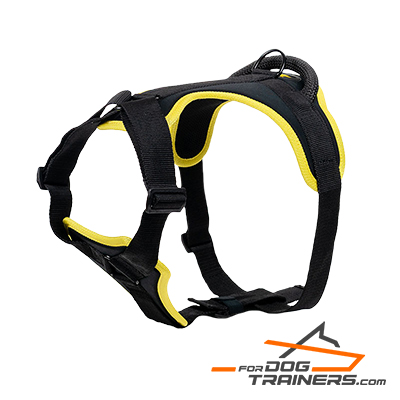 Innovative Design Black Nylon Dog Harness for Training, Tracking and Walking Have you thought about getting a new harness for your dog recently? Do...
$65.99
... more info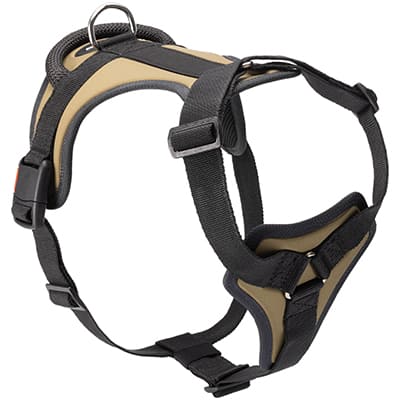 Nylon Dog Harness for Safe Training and Comfortable Walking Do you have an active and strong canine? Do you need a harness that will fit for...
$65.99
... more info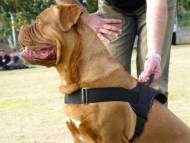 Comfortable Nylon Dog Harness with Handle Girth is the measurement around widest part of rib cage (behind front legs) Need a different size?...
$32.99
... more info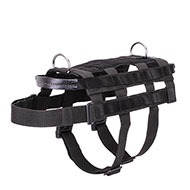 Rescue Service Dog Nylon Harness for Multipurpose Professional Use A Great NOVELTY on Pro Dog Training Equipment Market! FDT presents New Design...
$108.99
... more info
"Your Lifeguard" Dog Nylon Harness You need your dog to be your eyes, your hands, your liver wing? You want him to be your help and feel comfortable...
$97.99
... more info

Dog Rehabilitation Nylon Vest Your doggy has been your friend for 12 years? He had difficult surgery and is not so active any more? But how to walk...
$54.99
... more info
Displaying 1 to 9 (of 18 Products)
A great choice of dog supplies made of durable nylon will draw your attention definitely. Choose from this
large selection
of nylon, all weather, service, police and military harnesses. Schutzhund, tracking, police K9, search and rescue, walking, training, pulling and guide and assistance harnesses are available to purchase. Water-resistance, extreme durability, great functionality and practicability are combined to manufacture these FDT Nylon Dog Harnesses. Choose one of these perfect dog accessories and
give your pet more freedom and opportunities
!
Nylon dog harness suits any weather conditions
Nylon harness for dogs is always a reasonable buying if your dog is active and loves outdoor activities despite the weather. Nylon dog harness
perfectly resists bad weather conditions
and can be worn whether it is rain or snow. Nylon is a universal material as it is strong, tear-proof and lightweight. Due to these features, nylon dog harness does not stretch, does not lose its shape or color, does not restrict pet in movements. Great adjustability allows you to fit it properly on the dog. The
dog feels comfortable in this harness
and is ready to play or train. What else, you can also wash and clean the item as nylon dries out quickly. There are no toxicants in its composition. Your doggie will stay healthy and happy.
Open great advantages of nylon dog harnesses
With FDT nylon harness, you take control of your dog from the moment you put this gear on.
It is easy to put on/off
and your pet is ready to enjoy walking or training instantly. The construction of each nylon dog harness is simple making the gear the most functional. There are
harnesses with reflective strap
that provides better visibility at night. This specific option prevents your dog from losing.
Other come with patches
with different name on them.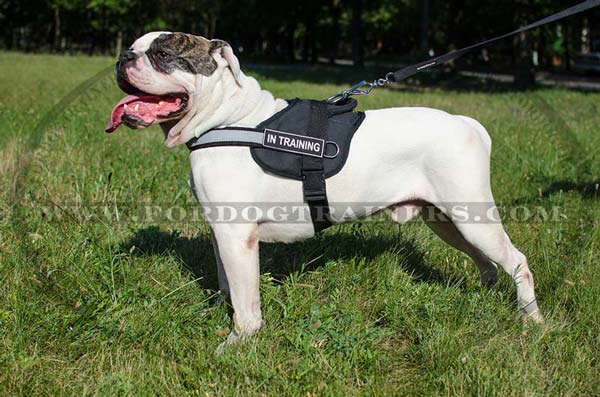 Nylon American Bulldog Harness with Patches
As it was mentioned, the harness is totally adjustable. The quick release buckle will make harnessing your dog fast and simple. Just one click and your pet is ready for walking and training. Mostly all harnesses are equipped with strong D-ring for leash attachment. The stuff is nickel plated steel, durable and non-rusting.
Nice winter and dog rehabilitation vest harnesses
are available to order. This is a special kind of equipment which gives your pet warmth in winter and helps to rehabilitate. Soft velcros provide comfy fit. Due to them, the nylon harness sits snugly but doesn`t restrict the dog.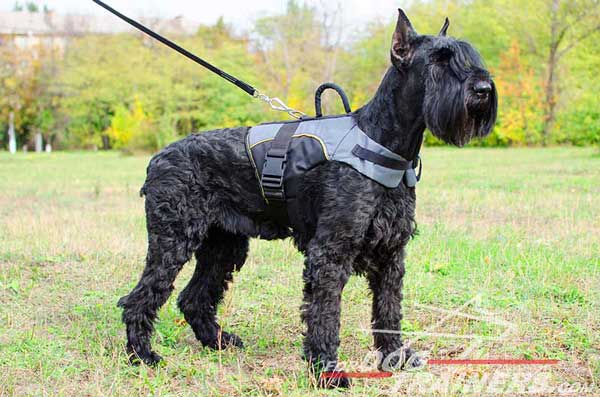 Lightweight Nylon Riesnschnauzer Vest
Professional pulling dog harness
comes with spreader bar and steel ring for more comfortable and reliable attachment a cargo. This harness is recommended by dog trainers for active pulling work, to build your pet's muscles. Strong stitching adds more reliability to each item. The whole construction of this pulling harness is conceived to
maximise comfort and avoid overstraining
of your pet during any kind of training. Wide enough straps will protect your pet's skin from rubbing or cutting.
All in all, nylon dog harnesses take an important place in training and walking the dog. One of these multifunctional accessories should definitely replenish your dog`s set of ammunition!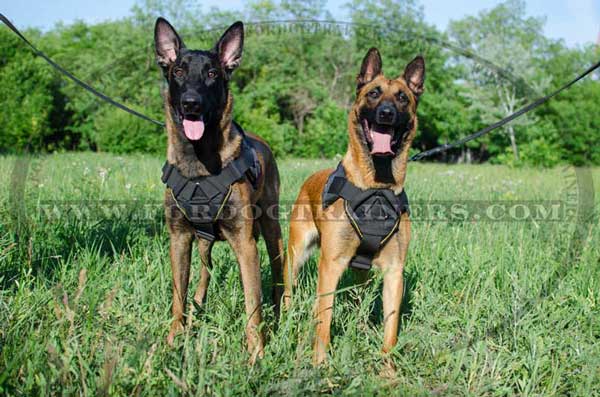 Lightweight Nylon Harness for Belgian Malinois