Description of the dog harness


Our guide dog harness is developed to give maximum support for the dog and the visually impaired owner. Every aspect of this harness is constructed to provide the utmost comfort and durability. It is the traditional well known design with few adjustments which makes this guide harness even better.
This expertly hand crafted harness is made of high quality, heavy duty, genuine black leather. The straps are 1 1/4 " wide, rivets and fitting are made of solid brass. The harness is stitched with the strongest nylon thread, with several places having double stitching.
The girth size of the harness can be adjusted with 5 adjustment holes for your dogs comfort. Proper fitting is important; the harness should not be too tight. It is important to mention that you will only have to adjust the chest strap once using the roller buckle. Later on for placing and removing the harness you can use the convenient quick release buckle.
The dog harness comes with a light weight, highly durable metal handle that is wrapped with leather. In addition, you will find mid-way down the handle a short handle bar for more strength and stability. This handle bar also comes in use when the main handle falls from your hand, the short bar will make sure that the handle does not fall too low and you will be to able to pick it up without bending too low. At both ends of the handle there is a quick release snap-on buckle.
The harness has 4 stripes of reflective stitching placed around the front chest strap which are perfect for night time walks, keeping the dog and his owner visible and safe.
Intended use
Guide dog harness
Light duty mobility assistance harness
Key futures of this dog harness

2 ply leather front chest strap
Dual purpose of the around chest strap - roller buckle for size adjustability and quick release buckle for taking harness on and off
Reflective stripes to increase visibility and keep your safer
Hard steel leather covered control handle
Easy removable main handle
100% full grain geuine leather made
Supreme comfort for your dog
Easy pick up main handle "fall-stop" bar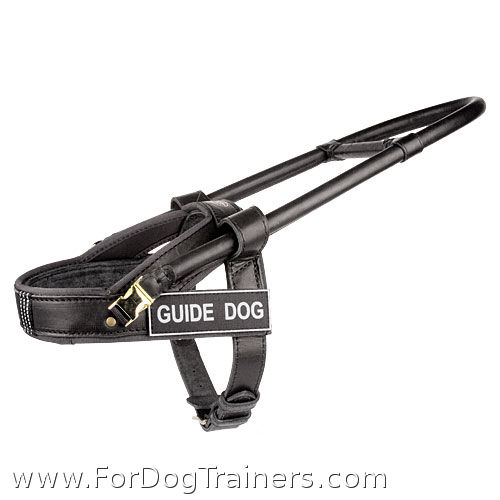 How to size your dog for best fit of the guide dog harness:
Measure around the widest part of the rib cage of your dog an inch or two back from the "armpits".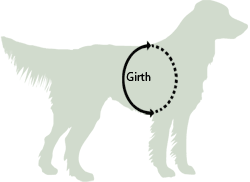 Girth strap of the harness is adjustable in the following range - inches ( 64-78 cm )
Front chest strap length (point to point of main chest strap connection) - 22.5 inches ( 57 cm )
Length of the main handle from the harness connection points to the end of the frame - 20 inches ( 50 cm )
Click to get dog harness
Click to get leather dog harness
Click to get small dog harness
Click to get dog pulling harness
Click to get sled dog harness
Click to get step in harness dog
Click to get dog car harness
Click to get dog harness vest
Click to get padded dog harness
Click to get spiked dog harness
Click to get service dog harness
Click to get designer dog harness
Click to get rhinestone dog harness
Click to get dog walking harness
Click to get sensation dog harness
Click to get custom dog harness
Click to learn how to put on a dog harness
Click to get dog collar harness
Click to get pink dog harness
Click to get dog safety harness
Click to get dog harness for pulling
Click to get weight no pull dog harness
Click to get dog carting harness
Click to get orange dog harness
Click to get dog tracking harness
Click to get fancy dog harness
Click to get soft dog harness
Click to get dog truck harness
Click to get no jump dog harness
Click to get guide dog harness
Click to get dog spike harness
Click to get dog harness and leash
Click to get dog seat belt harness
Click to get lupine dog harness
Click to get training harness for dog
Click to get dog weight pull harness
Click to get weight harness for dog
Click to get dog cart harness
Click to get tiny dog harness
Click to get seeing eye dog harness
Click to get dog harness pattern
Click to get working dog harness
Click to get nylon dog harness
Click to get dog harness small spike
Click to get dog fashion harness
Click to get jumping harness dog
Click to get car safety dog harness
Click to get pink leather dog harness
Click to get custom leather dog harness
Click to get medium dog harness
Click to get search and rescue dog harness
Click to get toy dog harness
Click to get small dog harness vest
Click to get best dog harness
Click to get chihuahua dog harness
Click to get teacup dog harness
Click to get hug a dog harness
Learn how to make a dog harness
Click to get rescue dog harness
Click to get pitbull dog harness
Click to get figure 8 dog harness
Click to get premier dog harness
Click to get weighted dog harness
Click to get spiked leather dog harness
Click to get dog travel harness
Click to get anti jump dog harness
Click to get arthritis dog harness
Click to get mesh dog harness
Click to get dog chain and harness
Click to get large dog harness
Click to get mobility dog harness
Click to get dog grooming harness
Click to get dog harness motorcycle
Click to get bed dog harness truck
Click to get instructions for dog harness
Click to get dog harness pulling stop
Click to get dog harness velcro
Click to get dog harness n sit stay
Click to get harness dog personalized
Click to get leather dog agitation harness
Click to get dog harness make own vest
Click to get dog harness and pulk
Click to get dog harness backpack
Click to get chest dog harness leather
Click to get dog harness dress
Click to get heavy duty dog harness
Click to get gentle leader dog harness
Click to get traveling dog car harness
Click to get comfort harness for dog
Click to get fox and hound dog harness
Click to get dog hip harness
Click to get dog harness kent
Click to get leather harness for small dog
Click to get dog harness for bike
Click to get chest dog harness
Click to get dog h harness style
Click to get dog harness hampshire
Click to get leather spike dog harness