Description
Wide Leather Spiked Dog Collar Hand Crafted by www.ForDogTrainers.com Professionals

This Collar Is Extra Wide - Almost 1 3/4 Inch - Which Makes It Perfect Tool For Handling Large And Active Breeds

This Leather Collar Is Made With 2 Rows Of Symmetrical Proportional Spikes and 1 row of brass half ball studs placed between spikes, That Help Bring Out The Beauty Of This Hand Crafted Creation. We Use Heavy Nickel and Brass Hardware, 1/2" Solid Steel Nickel-Plated Spikes - This Is Guarantee That It Will Not Rust Ever !!!

Available In Brown or Black Very Strong and Thick Perfectly Oiled and Selected Leather

This collar is made of very strong, durable and soft, solid leather. No doubled up fillers or machine stitches...which means the edges won't fray! "Functionally fashionable".


Spikes are hand set with brass rivets.
Hand set brass rivets secure the stainless steel buckle and D-ring (for tags and leash.)





Don't lose your pet - get ID tube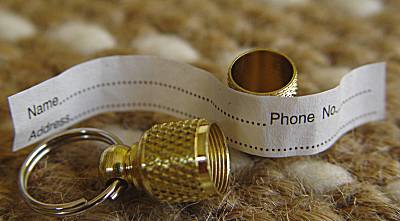 Guy,
I received the package yesterday. Thank you very much for being so helpful and responsive. I will definitely recommend you to my friends and family. Have a wonderful New Year!!


From :Shellie, USA
Hello Guy,
Thanks so much!! The collar looks amazing I surprised my boyfriend with it for our Bernese Mountain Dog, he loves it thanks so much!! I will definitely order from you again.
Sincerely,


From :Jaclyn, USA
Dear fordogtrainers.com
I order your S55 - Leather Spiked Dog Collar. We just received the collar and I wanted to let you know not only is it beautiful but the quality is outstanding. We were looking at a local pet store for a dog collar that would have cost slightly less than yours (with shipping), but as far as looks and quality, your product was in a completely different class. Not only were my expectation exceeded with the collar but, your customer service was excellent as well. Thank you for delivering such a unique, quality product. When I need anything else for my pet, I will be visiting your website to see it you supply it before I go to the pet store.


From :Dale, USA